We inherited this power wheels ATV from a dear family that moved out of state. It needed some "fixing" before we could have some fun with it. These are the things I've done to it since we got it.
New Battery
The original battery had long since died, and my 18V cordless drill batteries were the only ones I had that were remotely powerful enough to make it move. Sure the voltage is a bit higher than the 12V ATV is designed to run on, but now it goes faster! Also, I've been running it on 18V for 3 years now and it still runs great. As you can see in the photo's I used a standard RC battery plug. Then created battery adapter to spade wire terminals. I used bits of wood to keep the right spacing of the spade wire terminals for battery connection and removal.
Bike trailer hitch
The problem with having siblings is you need to share. So I thought they could all have fun together if they could pull each other around. So I came up with this trailer hitch. Get a 3/4 in. PVC 45 degree elbow, and drill a hole clear through one side for the trailer cotter pin to go through. Then place a piece of scrap 2×4 on the inside of the battery bay, and put at least 3 screws through the PVC elbow through the body into the 2×4.
Painted it Metallic Blue
RGB Undercarriage Lights
Simply added some 12V RGB LED strips to the undercarriage of the power wheels, and added the controller that came with it. The LEDs were able to operate just fine at 18V using the LED IR controller that they came with. It also adds visibility at night.
Unfortunately the LED strips eventually fell off even after gluing them down.
Battery Level Indicator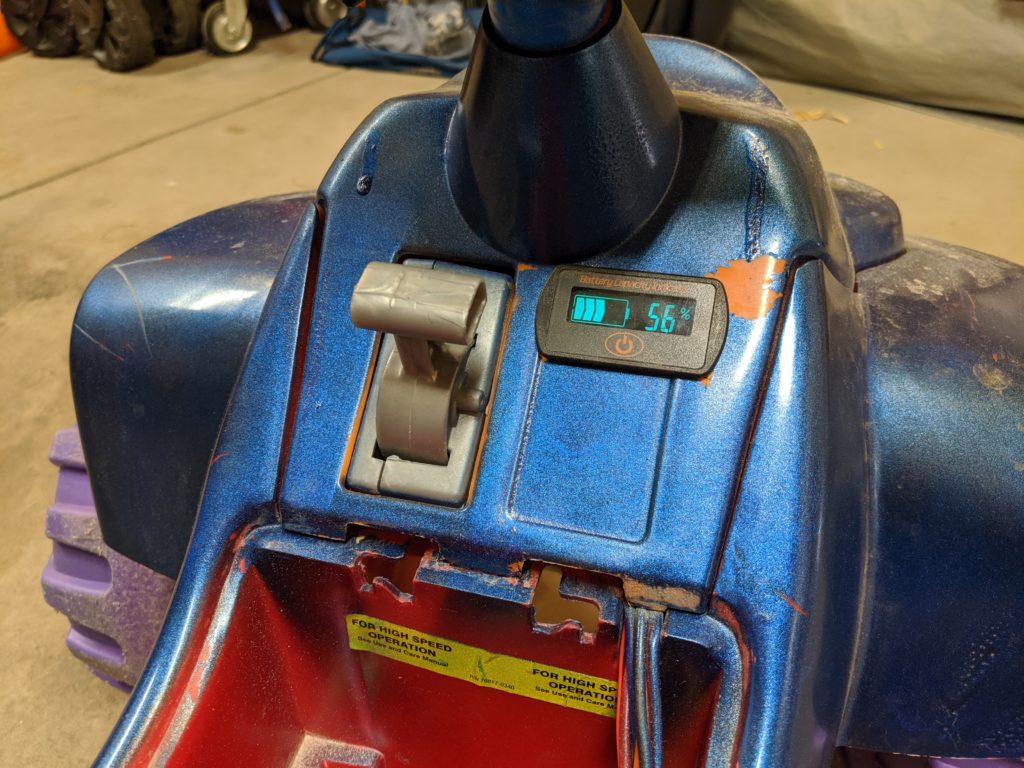 New Treads
Now that the kids are getting bigger I noticed that the wheels tend so spin out longer, and that the ATV wont stop as quickly as it used to. This was especially apparent when they tried to pull a heavier wagon. So I found a hack online on how to take a bike tire (not inner-tube) and apply it to the hard plastic wheels to give it more traction.
Pull a Parade Float
Okay this one isn't really a hack, but was made possible because of some of the hacks. And it is a neat thing I was able to do with my kids. We had a lot of fun, and they were able to help promote Mommy's business (pebblebaysoaps.com). We also won 3rd place for best float!